Moments in Birtle History: Birtle's Role in the North-West Rebellion
Birtle's first military adventure began early in April 1885, when volunteers were called upon by Major Boulton to fight against Louis Riel and the Northwest Rebellion. Known as Boulton's Scouts or Boulton's Mounted Infantry they played a crucial role in the battle of Batoche and the capture of Louis Riel.
They were highly praised by Major Boulton for "their bravery, their gallantry, and their powers of endurance, combined with great good humour."
The recruitment drive was highly successful; in Birtle there were twice as many volunteers as places in Boulton's troop. On 24 April, another twenty-four men signed on to fight and later requests for additional manpower were answered enthusiastically. Major Boulton had clearly done a good job of convincing the people of the Birtle-Russell area of the urgency of the western conflict.
Background
In 1885, a group of Métis in what was then called the District of Saskatchewan, called upon Louis Riel to lead their protest against the Canadian government for a failure to recognize their land claims. In March 1885, Louis Riel, Gabriel Dumont, and others set up the Provisional Government of Saskatchewan, believing they could influence the federal government in the same way they had in Manitoba in 1869.
Around this time the Cree had their own grievances; frustrated by broken treaty promises, starving due to the depletion of their food source caused by dwindling buffalo herds and the failure to receive much needed provisions as promised by the Canadian government. Widespread dissatisfaction with the treaties and crippling poverty spurred Cree Chief, Big Bear, to try to diplomatically renegotiate the terms of the treaties. Poundmaker, a prominent Cree Chief, also tried to peacefully implore the Indian agents to help his starving people. Nevertheless, they and their tribes got intertwined with Riel's rebellion.
**For a comprehensive look at the Indigenous perspective of their role in the Riel Rebellion see
Loyal till Death, Indians and the North-West Rebellion, Blair Stonechild, Bill Waiser, 1997.
"This book explodes the myth of a grand Indian-Metis alliance and delves into the reason why Indians have been branded as traitors and rebels in both the public imagination and official records."
It should be noted that Riel lacked the support of the majority of the 5400 Metis population living in Saskatchewan at the time as they tried to stay neutral in the dispute with the Canadian government. Approximately 350 armed men supported Riel along with smaller bands of Indigenous warriors.
Realizing the seriousness of the situation the Canadian Government sent Major George Middleton to quell the rebellion. Over the course of many weeks Major Middleton brought 3,000 troops to the West and incorporated another 2,000 volunteers, and 500 North-West Mounted Police into his force.
Middleton arrived in Winnipeg in March 1885, and was met by Major Boulton from the Shell River/Russell area who offered to raise a force of mounted men to serve as scouts for the expedition. Boulton's Mounted Infantry, or Boulton's Scouts as they were more commonly known, proved their worth in the battles at Fish Creek and Batoche. It was also reported that they "held a prominent position throughout the campaign and won the hearty approval of General Middleton."
Excerpt from a memoir by Major Boulton, Reminiscences of the North-West Rebellions:
I happened to be visiting Winnipeg at the date of General Middleton's arrival, and having served with him on former occasions, I waited on him, and offered to raise a force of mounted men that would prove serviceable in the proposed expedition. The men, I urged, resided on their homesteads in the interior, not very far from the scene of action. He asked at what cost this could be done, and I told him at the same rate as the Mounted Police, viz, seventy-five cents per day, with clothing and equipment. The General submitted my proposal to Ottawa, and in two days I received authority from the Minister of Militia to raise and equip my force.
My home is in the Shell River district, about three hundred miles west of Winnipeg, and nearly seventy miles north of the Canadian Pacific Railway. I received my authority on the 31st of March; and before leaving Winnipeg, I ordered from the Hudson's Bay Company my equipment of rifles, blankets, tents and saddlery.
I came out by train to Moosomin, and drove north to Birtle, where I left a notice with Mr. Pentland, land agent there, asking for thirty men and horses to be ready for inspection in two days. I then drove north to Russell and there put up a similar notice. By the 6th of April, I returned to Moosomin, with sixty men and horses, besides officers, orderlies, cooks, etc. in all eighty-two men, including six teams for transport of provisions, equipment and forage. I had travelled in the six days two hundred and twenty miles by rail and one hundred and forty miles by road. I purchased all my horses in the district, at an average of $165.00 a piece giving orders on the Hudson's Bay Company posts, at Fort Ellice and Russell, which were duly honoured.
I formed up at Moosomin, gave my men their mounts and equipment , and took the train for Qu'Appelle, one hundred and twenty miles farther west, there to march to join General Middleton's column, which was about one hundred miles on its way to Clarke's Crossing. When I arrived at Qu'Appelle, I divided my men into two troops, and appointed to be captain of the Russell troop Meopham Gardiner, from Brighton, England, who came with me to Manitoba in 1880 and has been my neighbour ever since. Mr. Pigott, son of General Pigott, who with his family had settled in the country three or four years previously, I made lieutenant. Captain (J.A.) Johnston, of Seaforth, Ontario, now the village of Birtle, I appointed captain of the Birtle troop, with Mr. Gough, a nephew of Lord Gough, as lieutenant. Mr. Cox, a surveyor, from Buckinghamshire, England, I appointed quartermaster, and Dr. Rolston, late surgeon of the Royal Navy, surgeon. All my officers and men had been living on their homesteads, and now sacrificed the prospects of the season's crop to serve in the campaign.
* * *
The men were supplied with a serviceable coat made of brown duck [canvas], a pair of riding-breeches, a helmet, a flannel shirt, moccasins and stockings. Most of the men used riding boots, keeping their moccasins for comfort. They used up their clothes very fast on the campaign. The white helmets were criticized as being too conspicuous, but I am convinced that in the kind of fighting we had to face it is well to be able to distinguish friend from foe … My men were obedient and plucky, and thoroughly entered into the spirit of the campaign. They were composed of the very best class to do good service, having by their push and enterprise penetrated the interior of this country, three hundred miles beyond Winnipeg, where they were employed as settlers, farming on their homesteads. They sacrificed their summer's crop to uphold the laws of their adopted country – some even selling their stock for what it would bring that they might not be compelled to stay at home. I cannot praise too highly their bravery, their gallantry, and their powers of endurance, combined with great good humour, which made the four months I had the honour of commanding them pass like a pleasure trip.
After the fatigue of marching all day and attending to their horses, the guard duties and patrol at night had to be done, all of which was faithfully performed without a murmur. The reminiscences of adventure they went through, and the battles they fought, will be handed down for many years to come as memorable events in the history of the district, when by the progress of railway communication such long marches will become a thing of the past.
You can see an online copy of Boulton's complete book at HathiTrust, a not-for-profit collaborative of academic and research libraries.
There is a Manitoba Heritage Council Commemorative Plaque recognizing Major Boulton in Russell.
List of Birtle Volunteers, found in the Appendix of Major Boulton's Reminiscenses of the North-West Rebellions on page 501.
Boulton's Mounted Infantry – No. 2. Birtle Troop
| | | |
| --- | --- | --- |
| Capt. J.A. Johnston | Trooper G. Hall | Trooper H.B. Bierd |
| Adjt. H. Gough | J. Boulton | W. Crawford |
| Colour Sergt. H. Wood | Sergt. E. Dalton | D. McLean |
| R. Lane | W. Ball | P. Roberts |
| J.B. Pentland | Corp. T. Selby | C. Roberts |
| J. Richardson | T. Logan | Trooper C. King |
| G. Robertson | H.B. Savin | J. Thompson |
| A. Walker | W.M Morrison | D. Johnston |
| J.M McNeill | R.K. Clarering | Sergt. J. Anderson |
| Joseph Barrett | H. Hay | H. Travis |
| R. Mahaffy | C.E. Bagshaw | J.Y. Ormsbey |
| W. Doig | A.J. Spiers | D. McIvor |
| J. Flynn | W.C. Stewart | H.B. Mitchell |
| T. Neil | G. Bristol | E. DeBalinhard |
| C.T. Moyle | A.D. Price | S. McKenzie |
| G. Lyons | W. Taylor | J. Pocha |
| G. Fisher | H. Gibson | B. Reid |
| H. Winearls | W. Green | M. McLoughlin |
| W.S. Ashe | E.O.G. Head | |
List of Birtle Volunteers, as printed in the April 10th, 1885 issue of The Birtle Observer
"We publish the names of Major Boulton's volunteers, some of those mentioned have not been required, but as a number have gone to Moosomin with the intention of joining other companies it is impossible to make a distinction:"
Note:
*Not on Major Boulton's list
*** Valandine Bruce was not on Major Boulton's List; however we know he was part of the troop because he received compensation for his wounds.
| | | |
| --- | --- | --- |
| Daniel McLean | *D.G.Smith | John McNeill |
| *Rodney H. Molesworth | *Wm. Henry Atkinson | *Geo Robertson |
| George Lyon | Wm. Taylor | H. H. Gough |
| Hubert H. Winearls | C.T. King, Beulah | C. Roberts |
| Wm. Sands Ashe | P. Roberts, Beulah | *George I Ashe, Birtle |
| *Thomas Sogan | David Johnston | *C. O'Callaghan, Birtle |
| *Wm Elwin Carpenter | Jas. H. Boulton | Jas. Johnston |
| Geo. T. Hall, Shoal Lake | Wm. Doig | *Martin Mackintyre |
| John J. Flynn | Wm. C. Stewart | John Richardson, Birtle |
| Wm. Jas. Ball | ***Valandine Bruce, Beulah | Chas. Thos. Moyle |
| Wm. H. Hay, Crescent Lake | *Robert Lyon, Beulah | *Ellis Young, Wattsview |
| *Henry Spears Lucas | *Thos. Mill, Birtle | Hubert Wood |
| Chas. Bagshaw | W. Morrison | *Frederic Stain, Beulah |
| *Robert Knox | George Fisher, Rossburn | |
And those who filled vacancies, as printed in the May 18th, 1885, issue of The Birtle Observer.
| | | |
| --- | --- | --- |
| James Anderson | Robert Lane | William Green |
| William Crawford | Jay Pentland | Harry Gibson |
| *John Leggat | John Richardson | Thomas Thompson |
*Not listed on Boulton's list but listed in the group of Birtle Volunteers that stayed behind to protect the town.
A group of armed volunteers was formed to protect the Town of Birtle should it be necessary. The Birtle Observer, Local and Other News, April 17, 1885
"The following men have been elected officers and non-commissioned officers in the company of Birtle Volunteers":
| | | |
| --- | --- | --- |
| Geo. Wood, Captain | Dr. Morrison, 1st Lieutenant | 2nd Lieut., Wm. Gourley |
| 1st Sergeant; J. Leggat | 1st Corporal, Henry Gibson | 2nd Corporal, W. Patterson |
| 3rd Corporal, A. Wood | | |
Timeline
March 23, 1885 – General Middleton, commander of the Canadian Militia, is sent to Winnipeg to enlist the 90th Winnipeg Rifles unit of the militia to quell the uprising. Major Boulton meets with Middleton in Winnipeg and offers to raise local troops to aid the mission.
March 26, 1885 Battle of Duck Lake – Gabriel Dumont leads 150–200 Métis and Cree warriors to defeat Prince Albert Volunteers and North West Mounted Police.
March 30, 1885 – Militia from Toronto, Montreal and Quebec City are mobilized and head West.
March 31, 1885 – Major Boulton receives authority from the Canadian Government to raise troops and secure supplies.
April 1, 1885 – Birtle – "Meeting in town hall to organize a volunteer Co. Walked over to Murdoch's to get caps taken out of shells. Preparing cartridges for rifle in view of half-breed troubles." Alfred Morton's diaries
April 2, 1885 Frog Lake massacre – Cree Chief, Wandering Spirit, angered by unfair treaties, lack of promised provisions by Canadian government, captures a small town killing the Indian agent, 8 settlers and taking 3 captives. "Major Boulton in Birtle buying horses for his cavalry troop." Alfred Morton's diaries
April 6, 1885 – Boulton arrives in Birtle to gather his mounted volunteer infantry, they stop at Moosomin to pick up supplies and continue on to Fort Qu'Appelle, Saskatchewan.
The Volunteers Depart: posted in The Birtle Observer April 10, 1885
April 15, 1885 Fort Pitt – 200 Cree warriors intercept a police scouting party, killing a constable, wounding another and capturing a third, taking the townspeople as hostages and destroying the Fort.
April 24, 1885 Battle of Fish Creek – 200 Métis achieve a victory over a superior government force of 900 soldiers that temporarily halts General Middleton's advance on Batoche. First involvement for Boulton's Troops. D'Arcy Baker from Russell Troop is shot and dies of his wounds. Seven others are severely wounded including Captain Gardiner and Trooper V. Bruce.
May 2, 1885 – Battle of Cut Knife – Cree war chief, Fine-Day, affiliated with Poundmaker, successfully holds off Lieutenant Colonel Otter. Despite its use of a gatling gun the Canadian militia was forced to retreat.
May 9, 1885 – Battle of Batoche – Middleton attacks Batoche. Boulton's Troops play an instrumental part in keeping Gabriel Dumont's men from engaging Middleton's Column in the advance of the village of Batoche. Greatly outnumbered Métis run out of ammunition after three days of battle and disperse.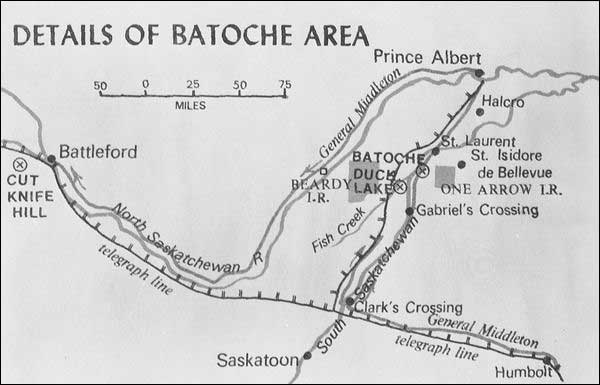 May 11, 1885 – "10 more men from Birtle leave to join Boulton's Corps at the seat of war. J. Richardson goes too." Alfred Morton's diaries
May 15, 1885 – Riel surrenders, Dumont and others flee to Montana. After the fall of Batoche Boulton's Troops are employed in rounding up rebels and Cree fighters along the North Saskatchewan River.
May 28, 1885 – Battle of Frenchman's Butte – A fleeing group of warriors under Big Bear win a battle against Major General Strange's militia which includes a NWMP detachment from Calgary.
June 3, 1885 Battle of Loon Lake – The last armed battle. Major Sam Steele and the small detachment of NWMP under his command catch up to Big Bear's fighters which are moving northward after their victory at Frenchman's Buttle. After a short exchange, Big Bear's fighters, running out of ammunition, release their hostages and flee.
Approximately 91 people would die in the fighting that spring before the Rebellion's collapse.
Clark's Crossing
A historic river crossing, often referenced in the correspondence of settlers from the Saskatoon area in the late 1800s. It was named for John Fowler Clark, an assistant to the Geological Survey of Canada who settled here in 1880. In 1881, the government granted him a charter to operate a ferry across the South Saskatchewan River, giving rise to the name Clark's Crossing. The ferry ran irregularly until 1889. Clark briefly returned to Ontario, married Margaret Ashton, and returned with her in 1884. He set up a post office in their home and was postmaster He built a house and several outbuildings and cultivated the adjacent lands. About 550 meters south of the ferry, the Dominion Telegraph line crossed the South Saskatchewan River in 1876, and a telegraph station was opened here in 1884. Clark's Crossing was also on the route of the first Canadian Pacific Railway survey.
During the North-West Rebellion of 1885, the Canadian Commander, Major General Frederick Middleton, split his forces advancing on the Métis headquarters at Batoche into two columns here. On April 20 and 21, one column was ferried across the left bank of the river. Three days later, the Métis lead by Gabriel Dumont surprised the column on the right bank at Fish Creek, forty kilometers to the north, where an indecisive battle was fought.
Middleton and his troops camped near the Clark home, and some remained to guard the nearby telegraph station and supply routes when the others proceeded to Batoche.
Letters from the Battlefield: from The Birtle Observer, April 17, 1885 to June 29, 1885
Boulton's Birtle Troop No.2
A partial list of injuries sustained and compensation received as listed in The Birtle Observer, February 26, 1886, under Local and Other News:
W.M. Baker, $355.70
Trooper V. Bruce, $162.55
Captain Gardiner, $1819.89 (Russell Troop)
Trooper Hay, $375.40
Private F.J. Thompson, $320.10
Trooper C.T. King, $522.65
Sergt. C.T. Dalton, $317
Deaths
W.C. Stewart, Birtle Troop, later died in a Winnipeg hospital. Executors: $537.20
Captain Brown and D'Arcy Baker of the Russell, No. 3 Troop were shot in battle.
Boulton's Scouts Homecoming: articles from The Birtle Observer, July 13, 1885 to August 3, 1885
When they returned to their homes during the summer of 1885, Boulton's Troops were honoured with speeches, picnics and other local celebrations. A monument stands in the Town of Russell as a tribute to those scouts who lost their lives in the North-West Rebellion.
Birtle Celebrations mentioned in Alfred Morton diaries:
July 21, 1885 – "Boulton's troop of mounted infantry arrive from the scene of battle and were entertained to dinner."
July 28, 1885 – " Picnic in honor of the return volunteers … Heavy rain and hail while at picnic."
July 1, 1886 – "Medals distributed to Boulton's volunteers."
See also articles from The Birtle Observer for July 13, 1885 to August 3, 1885.
Sources
Loyal till Death, Indians and the North-West Rebellion, Blair Stonechild, Bill Waiser, 1997.
Major Charles Arkoll Boulton, Manitoba Historic Resources Branch, 1981
North-West Rebellion, Wikipedia
Reminiscences of the North-west Rebellions … by Major Bouton, 1886,
The Birtle Observer; 1885, 1886, 1887, 1888 editions.
The History of the North-West Rebellion of 1885, Charles Phelham Mulvaney, A.M., M.D., 1885
The Militia of Manitoba 1883-1979, Infantry & Cavalry, Bruce Tascona
Western Manitoba and the 1885 Rebellion by Ken Coates, Number 20, Autumn 1990
**Many thanks to Nathan Hasselstrom for compiling a collection of articles, references and publications, regarding Boulton's Scouts and Birtle's involvement in the North-West Rebellion.
For more information on the North-West Rebellion, visit the Manitoba Historical Society's website.
Return to the Moments in History list.